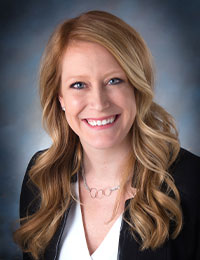 Dr. Lauren Jazwick
Ears, Nose and Throat
---
Office:
402.887.6210
Facility/Office:
Travels to AMH: Third Wednesday
Education:
* Undergraduate: Creighton University - Omaha, NE
* Graduate: Des Moines University - Des Moines, IA, Doctor of Osteopathic Medicine
* Sigma Sigma Phi Honor Society
* Pathway of Distinction: Education Scholar
* University of Nebraska Medical Center - Omaha, NE, Department of Otolaryngology - Head and Neck Surgery Residency
Leadership Roles:
National Leadership
* National Representative of the Council of Osteopathic Student Government Presidents
* Student Representative and Voting Member of the Iowa Osteopathic Medical Association.
Local Leadership
* Resident liaison of Otolaryngology - Head and Neck Surgery Interest League
* Des Moines University Student Government Association - VP, Secretary (Class of 2017) and VP of the College of Medicine
* Student Representative and Voting Member of the Council of Presidents
Society memberships:
* American Academy of Otolaryngology - Head and Neck Surgery
* American Head & neck Society
* American Rhinologic Society
* International Surgical Sleep Society
* American Osteopathic Association
* American Medical Association
Certification:
* American Red Cross CPR, ACLS< BLS and Rapid Responder Certifications
* Blood Borne Pathogen Training
* Emerging Physician Leader Certification
* Diversity Health Series Certificate of Completion
* NHS/CDC Concussion in Sports Training
More/Other Information:
Services at AMH include medical and surgical management and treatment of ENT diseases and disorders. She treats issues such as:
* Hearing loss
* Ear infections (to include tube placement)
* Swimmer's ear
* Sinus problems
* Tonsil and adenoid infections
* Sore throats
* Skin cancer of the head and neck
* Head and neck cancer
* Thyroid nodules
* Larynx illness or injury
Biography:
Dr. Jazwick grew up in small-town Bradshaw, Nebraska and married a Columbus native. They moved with their young daughter - to his family farm.
Dr. Jazwick received her medical training in Des Moines, Iowa. During this time, she completed a surgical rotation with Dr. Novotny. She was introduced to the Columbus community and the otolaryngology surgical specialty and immediately knew it was the right path for her. She committed to the Columbus Hospital prior to starting her surgical residency at UNMC. During her training, she was awarded the Golden Gloves of the department - for excelling in surgical techniques.
As a community physician, her focus is to provide comprehensive ENT care. Dr. Jazwick is especially interested in the care of pediatric patients, allergy and sinus treatments and treating head and neck cancer. She enjoys providing aesthetic treatments including fillers and botox and has developed an interest in surgical treatments for sleep apnea. She looks very forward to developing relationships with the community's health care providers.