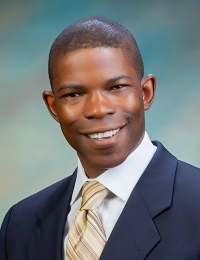 Dr. Yemi Akin-Olugbade
Urology
---
Office:
402.887.6210
Education:
Medical Degree: Charing Cross and Westminister Medical School, University of London, England
General Surgery Residency: New York Presbyterian Hospital, New York
Urology Residency: Mount Sinai Hospital, New York
Certification:
Board Certified in Urology
More/Other Information:
Urological Services at AMH include:
* Suprapubic tube placement
* Marsupialization of renal cyst
* Periurethral injections
* Cystoscopic and percutaneous bladder procedures
* Bladder instillation treatments for benign and malignant disease
* Transurethral surgery, including resection of bladder
* Biopsies of fulguration of urethral lesions, including prolapsed caruncles
* Incontinence surgery with or without prosthesis, including mesh, collagen and implant
* Circumcision
* Penectomy, partial or complete
* Priapism surgery and shunts
* Impotency surgery and prosthesis
* Repair of Peyronie's Disease/Chordee
* Ureteroscopy, flexible and rigid – with or without stone manipulation
* Transrectal ultrasound (TRUS)
* Prostate biopsy, prostatectomy – transurethral
* Surgery of the scrotum including orchiectomy, orchiopexy, excision of hydrocele or spermatocele, reduction of torsion, epididymectomy, vasovasostomy, varicocelectomy, testis biopsy, vasectomy and drainage of abscess
* Lymph node dissection, retroperitoneal pelvic
* Intraoperative ultrasound
Biography:
What Dr. Yemi enjoys most about being a doctor – is the interaction with his patients. He likes to get to know them, their backgrounds and their families. It gives him a good background to help his patients to manage their urological problems.
Dr. Yemi likes to spend time with his family. They enjoy skiing in the springtime. He likes to discover and learn about new things