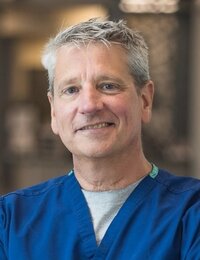 Dr. Thomas Beutler
General Surgery
---
Office:
402.887.6210
Education:
Education
* Undergraduate: Kearney State College
* Graduate: University of Nebraska Medical Center
* Residency: Michigan State University
Certification:
Credentials:
* Board Certification: General Surgery
More/Other Information:
Membership:
* Fellow of the American College of Surgeons
* President of the Surgicenter Board
* Chair of the Cancer Committee
* Committee for Professional Enhancement
Surgical Services include:
* Anal-Rectal Disorders/Procedures
* Abdomen and Digestion Disorders/Procedures
* Bowel Control
* Breast Disease/Cancer: Biopsy, Lumpectomy, Mastectomy
* Colon and Rectal Disorders/Cancer
* Colonoscopy
* Endoscopy
* Hernia Procedures
* Liver, Gallbladder and Pancreas Disorders/Procedures
* Minimal Access Surgery
* Minimally Invasive procedures
* Pediatric Surgery
* Skin and Soft Tissue Disorders/Procedures (Biopsies, Lesions, Abscesses)
* Surgical Oncology (Cancer/Tumors)
* Trauma/Injury Procedures
* Thorocentesis
* Appendectomy
* Hemorrhoidectomy
* Pilonidal Cyst
* Infusaport Insertion & Removal
Biography:
Dr. Beutler grew up in Omaha, Nebraska. He enjoys spending time with family, hunting, fishing, coaching soccer and playing guitar in a band. He is an active volunteer at church and school. He loves the chance to make a difference in people's lives every day.