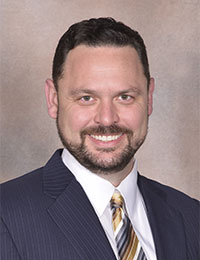 Dr. Josh Thoendel
Family Practice
Education:
Bachelor of Science degree from the University of Nebraska at Lincoln
Medical Degree from the University of Nebraska Medical Center
Certification:
American Board of Family Practice
Basic Life Support (BLS)
Advanced Cardiac Life Support (ACLS)
Advanced Trauma Life Support (ATLS)
Pediatric Advanced Life Support (PALS)
Aviation Medical Examiner
Biography:
Dr. Thoendel grew up on a dairy farm in rural Ewing. His family received their medical care through the years from the doctors at Antelope Memorial Hospital and had many positive experiences. It was very special for Dr. Thoendel to later join the AMH Medical Staff in June 2021. Dr. Thoendel and his wife, Christine, live in Neligh and have five children: Dewayne, Traevon, Elijah, Joslyn and Jillian. They look forward to raising their family in Neligh and being actively involved in community activities.
More/Other Information:
Dr. Josh Thoendel's Schedule
Monday
9:00am - 1:00pm, Neligh Clinic
1:30pm - 5:00pm, Neligh Clinic
Tuesday
Scheduled day off
Wednesday
9:30am - 12:30pm, Clearwater Clinic
2:00pm - 5:00pm, Orchard Clinic
Thursday
9:30am – 12:30pm, Clearwater Clinic
1:30pm - 5:00pm, Neligh Clinic
Friday
9:00am - 1:00pm, Neligh Clinic
1:30pm - 5:00pm, Neligh Clinic